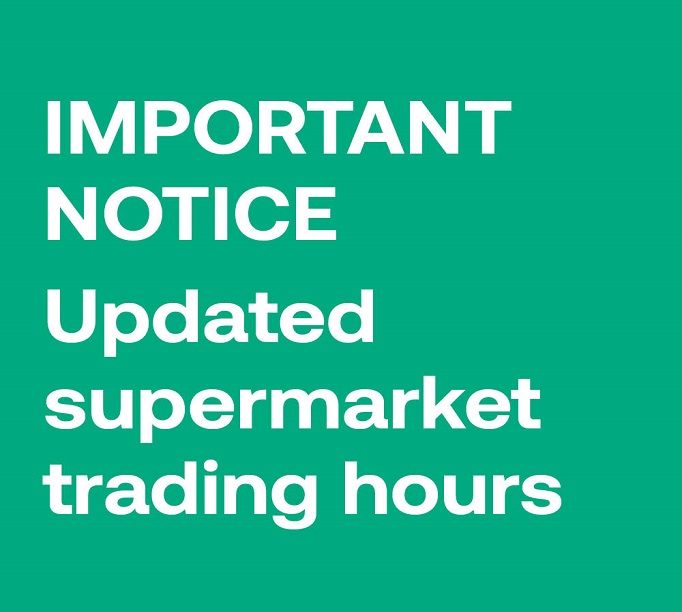 Supermarkets Trading Hours Important Notice
Woolworths will now trade from 8am - 10pm Monday to Sunday.
Aldi will now trade from 8.30am - 8pm Monday to Wednesday and Friday to Sunday, and 8.30am - 9pm Thurday.

A MESSAGE FROM WOOLWORTHS & ALDI
As grocery retailers, the wellbeing of everyone is our priority – our customers, team members, suppliers and especially the vulnerable and those in isolation. Here are some tips:
Please plan your shopping in advance to avoid the busier times if you can, especially this Thursday. Check the opening hours on our websites.
We may limit the number of customers in stores to help maintain social distancing. Please follow any instructions in store.
We have increased cleaning and hygiene measures, including wiping trolley and basket handles regularly.
We ask that every customer, just like every team member, washes or sanitises their hands before coming into store.
Please be courteous to other customers and treat all our team members with respect. They are working hard to keep our stores open for you.
Together, we remain proud to serve you. And to all Australians, from all of us, we wish you a safe and happy Easter.
For further updates from Woolworths and Aldi, please visit their websites:
https://www.woolworths.com.au/shop/discover/community/news
https://www.aldi.com.au/en/covid-19-update/